Up Up and Away Florida will take place on the SUN 'n FUN campus from Friday, May 6 to Sunday, May 8, 2022. A 3-day festival will feature colorful balloon glows, launches in the morning and evening, rides on tethered balloons, vendors, helicopter rides, kids zones, entertaining shows, and fun for the whole family.
There are many benefits to admission tickets for a full day: you can come and go as you like – if you have kids' sports, family fun, want to go to Mayfaire by the Lake for Mother's Day brunch, or just take a break to run home in the middle of the day, you can do this.
Below you'll find details about the Up Up and Away Florida ticket giveaway.
Here Are Some Things to Do at Up Up and Away Florida
Entertaining Shows
Each day, the park offers a variety of entertaining shows for guests of all ages.
In the Space Adventures Thrill Show, motorcycles are ridden, fire is thrown, and aerobatics are performed.
Squawk! Bird Show features interesting tricks, great talkers, and audience participation involving talented parrots that are full of personality.
Demonstrations of K-9 teams from local law enforcement agencies.
Car Show on Sunday
Check out the full event schedule on the website.
Hot Air Balloon Launches
Hot air balloon launches will take place between 7 am and 8:30 am Saturday and Sunday, as well as between 6 pm and 7 pm Friday, Saturday, and Sunday. During cooler hours of the day, before sunrise or before sunset, when winds are usually light, balloons launch. If you would like to observe balloon launches, please check the schedule.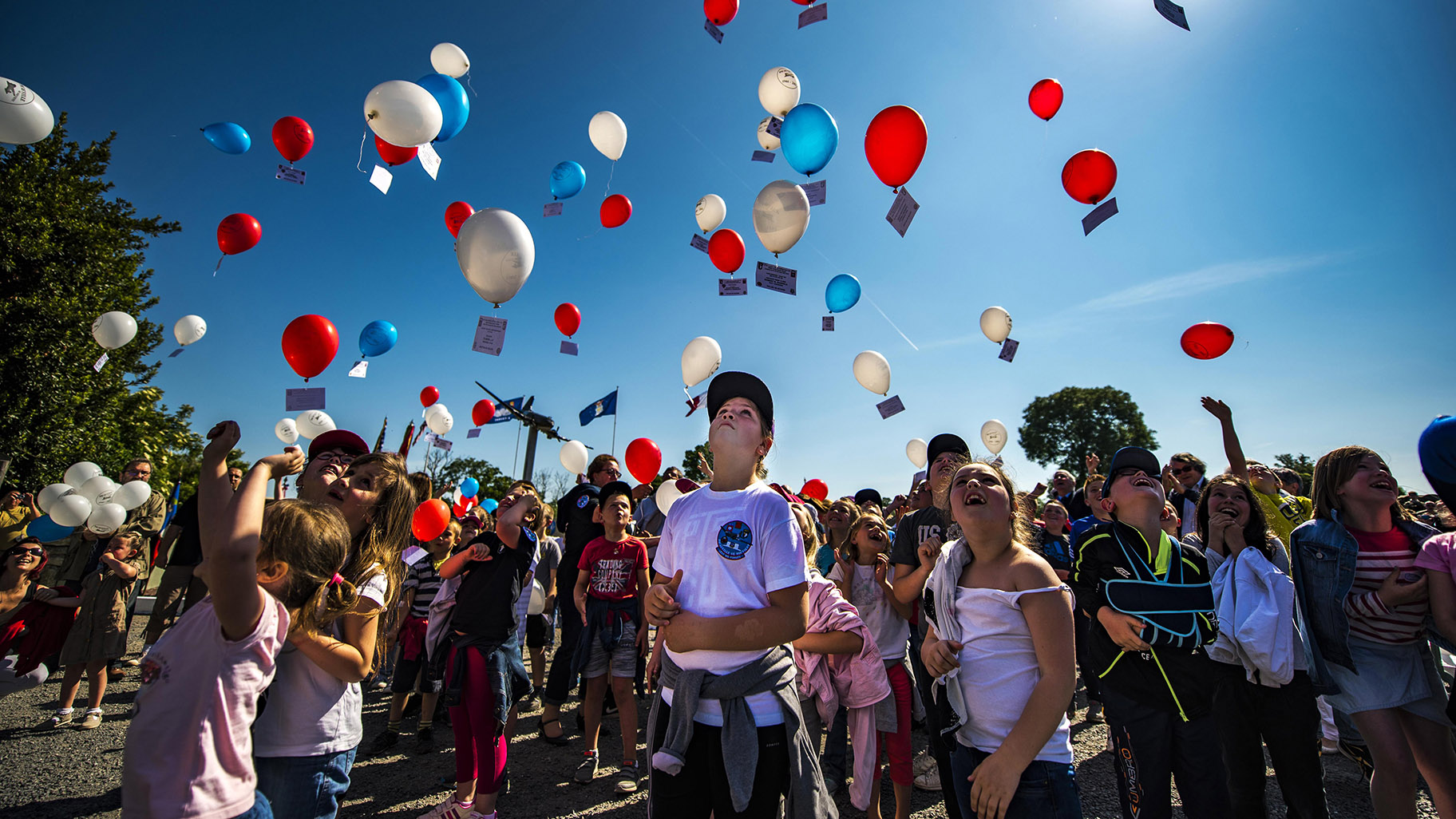 You'll need a calm, consistent wind for a safe flight so keep that in mind when planning a balloon launch or ride. Meanwhile, check out Up Up and Away Florida on Facebook and Instagram for live updates and announcements.
Balloon Night Glow
In the dark night between 8:15 pm and 9:15 pm on Fridays, Saturdays, and Sundays, balloons will glow. Don't miss this beautiful show and enjoy live music.
Live Music
Lakeland also hosts a weekend music festival called Up Up and Away! 10+ bands will perform throughout the 3-day festival, including the Rico Monaco Band, on Friday evening, Saturday, and Sunday. For more information, visit the festival's website.
Tethered Balloon Rides
There will be tethered balloon rides available during the event. It is a great opportunity to see a hot air balloon launch, however, tethered balloons only go up 30-40 feet in the air, hovering for a few minutes, then return to earth. Each morning from 7:30 am to 9:30 am and evening from 6 pm to 9 pm, tethered balloon rides are available — subject to wind and weather conditions. The cost is $20 per person, cash payable on site.
Kids Zone + Inflatables
There will be a Kids Zone with inflatables and games for children at the event. There will also be a mobile axe throwing booth.
Food + Drinks
At Up Up and Away, a variety of food vendors serve breakfast, lunch, and dinner. Adults should check out the schedule of wine tastings at the Barone Fini wine garden. Mothers can enjoy 2 for 1 mimosa from 7 a.m. to 11 a.m. on Sundays.
Free Admission to the Florida Air Museum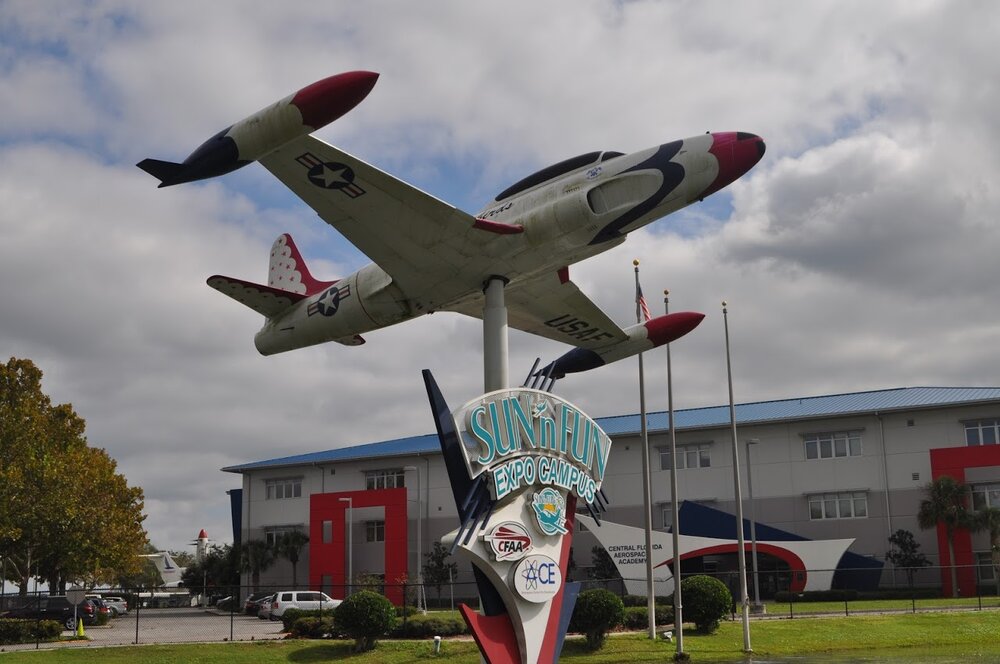 On the SUN 'n FUN Campus, you will find Florida's Official Aviation Museum, the Florida Air Museum. In addition to the Florida Air Museum being open year-round, work has now been completed on the Ramus SkyLab Innovation Center.
The exhibit displays a variety of aviation's best examples including unique designs, old classics, ultralights, antiques, and warbirds. Discover the Discovery Zone, featuring STEM games and activities for kids. Free admission to the Florida Air Museum is included with your event wristband.
Hot Air Balloon Rides
You can book a hot air balloon trip over Lakeland. A waiver is required for all balloon rides with the participating FAA Commercial Hot Air Balloon Pilots participating at the festival. A balloon ride costs $250 per person – Only Cash. Balloon rides will be available on May 7 and 8.  Go to the Up Up and Away Website for more information about hot air balloon rides.
Camping
Enjoy Up Up and Away on the grounds of SUN 'n FUN over the weekend. RV and Tent Camping is open from May 1 – 9. For more information about camping options and rates, visit the website. Camping fees do not include admission to the event.
The Things You Need to Know Before Attending the Lakeland Hot Air Balloon Festival
Tickets for Up Up and Away Florida
Admission to the festival is $22 if purchased in advance / $30 at the gate (daily).
Admission to kids 6 and under is free
The best deal is the Family Pass (available only in advance online) for $60 for 4 one-day admission passes.
Free parking is available.
When you buy your tickets in advance, you'll save time and money, plus you'll skip the lines when you arrive and enter the event right away. Additionally, your event wristband will allow you to leave and reenter the event on the day of the event.
Up Up and Away Florida Hours
Friday, May 6, 2022: 3pm – 9:15pm
Saturday, May 7, 2022: 7 am – 9:15 pm
Sunday, May 8, 2022: 7 am – 9:15 pm
Parking Gates open 60 minutes prior to the festival opening
The balloon launch window is 7 am – 8:30 am on both Saturday & Sunday! Arrive early to see this amazing event.
Venue
At the SUN 'n FUN Campus, located at 4175 Medulla Road, Lakeland, FL 33811, the event will take place. Do follow parking signs.
On-Site Shuttles + Mobility Options
Guests will be transported inside the event by complimentary golf carts and passenger trams. Wheelchairs and electric scooters will also be available for hire.
Tips for Staying Safe While at Up Up and Away
Keep an eye on your children while walking. As balloonists inflate their balloons, and one gets delighted to watch, personal items can easily get damaged or lost.
You should take the same precautions you would at a theme park or event with a large crowd. You should take a photo of your kids so that you can identify what they were wearing in case you get separated from them and need to alert security. Let your older kids know how to reach your cell phone e.g. by memorizing your number. You can write your number on your child's body or pin it inside their shorts for younger kids.
Things to Take With You
CASH
Stroller or Wagon
Sunglasses & Sunscreen
Backpack
Chairs and blankets
Portable phone charger
Earplugs or noise-canceling headphones
Ponchos
Not Allowed Inside Festival
Coolers, outside food, or drinks
Bicycles, hoverboards, skates, strap on skate shoes, golf carts, skateboards, kids scooters, and similar items
Pets other than service animals
Pop Up Tents
Drones
Firearms, fireworks, and explosives
No Smoking
Check out the Up Up and Away Website for a complete list of FAQs.
Weather-dependent Balloon liftoffs- Rain or Shine
You are advised to dress appropriately for the weather. The weather can affect the launch and ride of balloons. No refunds will be given. There will be no refunds for admission tickets or camping fees if the balloons cannot launch due to bad weather.
In the event that the winds do not cooperate, there will still be music, entertainment, kids' activities, food, and drinks. Furthermore, you can come in and out during the day, so if there are bad winds in the morning, you can come back for the evening launch time.
Win Giveaways in Ticket – Enter to Win!
You can enter to win 4 tickets to Up Up and Away Florida from May 6 – 8, 2022 by providing your name and email below. Each ticket is valid for a 1-day admission for ages 7+. Entrance is free for children under 7.
Entries are due by 10 a.m. on Monday, May 2. Winners will be notified by email or text. See full contest rules below.
GIVEAWAY RULES:
If you enter this giveaway, you agree to the terms and conditions of Lakeland Mom.
Except where the above information states otherwise, tickets are valid for the specified event, date, and time only.
This event is not under the control of Lakeland Mom other than ticket distribution. Participation in the event is at the participant's own risk.
To enter this giveaway, you must be 18 years of age or older and live in Central Florida.
Your email address must be valid to enter the giveaway.
You can only enter once.
The winners will be selected randomly from all entries.
As soon as the winners are selected, they will be contacted either by email or via Facebook. Each winner have [2] days (48 hours) to respond. Photo ID and/or mailing address may be requested.
You will be subscribed to Lakeland Mom's weekly newsletter by entering this giveaway.
Lakeland, Florida, will be hosting the Up Up and Away Festival of Hot Air Balloons. Don't miss it!